Salesforce workshops in California
November 6 - 27, Free Salesforce Workshops in California
Event
•
updated: Oct 4, 2017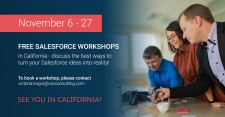 November 6 - 27 we organize Free Salesforce Workshops to discuss the state of your current Salesforce solution and what we can do to make it work better for you.
We could discuss any of these Salesforce Clouds:
- Lead generation & management (Sales Cloud)
- Effective support (Service Cloud)
- Customer journey (Marketing Cloud & Pardot)
- Custom solutions (App Cloud)
- Partners relationship (Community Cloud)
- Flexible reports & forecasts (Wave Analytics)
To book a workshop, please contact victoria.kogut@vrpconsulting.com.
See you in California!​
---